Project Update
Well it's been close to a month since I've had time to work on the 4-bit computer but I finally had some time this afternoon. Today I figured I would finish up some wiring. My goal was to complete the wiring except for the control wiring that wires up to the output of the control ROM and fires the various circuits as the ROM interprets each instruction.  Since I hadn't done anything for a while, it took me some time to get re-acquainted with the project and figure out where I had left off but after some review I got back into the groove.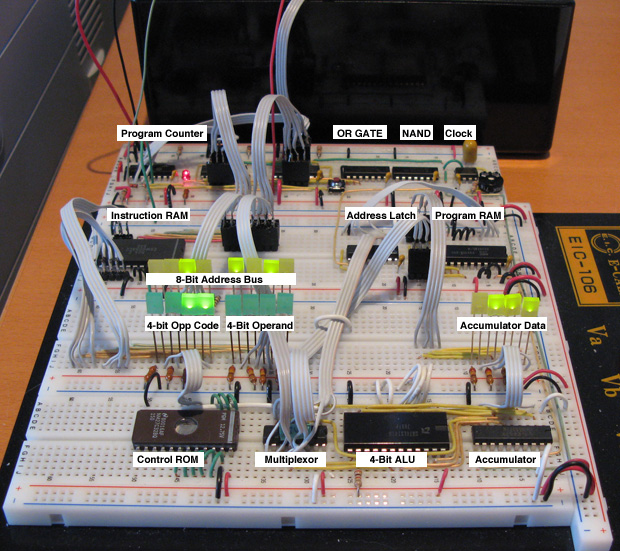 The photo above shows the progress to date. It has changed quite a bit since the first prototype and I've expanded the breadboard to allow more space for each component that makes up the CPU. The program counter is wired to the Instruction RAM which in turn is wired to the Control ROM and Multiplexor.The Multiplexor is wired to the ALU, Program RAM and Accumulator. At the moment the control and clock lines are wired to load the Operand Data straight through to the Accumulator Data Bus so I can see what's going on and I've hard wired the Program Counter's input bus and control lines to switches to test and simulate 4-bit and 8-bit jump instructions. So far it seems to work flawlessly but that's not to say I won't have to troubleshoot it once it gets wired into the control circuitry. 
The Control circuitry is next on the agenda. This will be complicated so I'll write another entry detailing how it is wired up and how it works.